Get the most from your ski holiday
Great Lessons, Convenient Locations
GoSnow 
The official international snow sports school of Grand Hirafu Resort in Niseko, Japan.
Go Snow cater to every level of skiers or snowboarders and are the go to choice for group lessons be they for adults or children. Go Snow is the largest ski school in Niseko and is the most popular choice for those skiing in Hirafu. 
Why choose Go Snow?
Exclusive priority lift lines in Niseko Grand Hirafu Resort.
All lessons in English by qualified international staff.
Lessons begin at the Gondola base or Family base, providing easy access to the whole mountain.
Maximum class sizes.
Private on-snow learning areas, including three beginner zones with magic carpets.
On-snow kids' facilities at Gondola base and Family base.
If you would like to know more about GoSnow or would like to book a lesson for you or your family please feel free to contact us anytime ([email protected]). When you email please prepare the following information for each guest.
Name
Age / DOB
Gender
Level  (L1 to L5)
Check your level HERE
Full details on option and pricing here in our Guest Services Guide
Before your Lesson
- Location, Location, Location
Please double check your starting location to see if you are starting from the Family or Gondola base. If you show up at the wrong base, you may miss your lesson. A map of the school bases can be found below.
- Know Your Start Time
To ensure all our guests get the most out of their lesson, each product has a strict starting time.
For Children's lessons: check-in is 9:00-9:15am
For Adults Lessons: please arrive at 9:40am
For Private Lessons: we advise arriving 10 minutes prior to your scheduled lesson start time.
- Children's Lessons
Please note:
All parents must leave a working phone number on the registration form, so we can contact you in an emergency.
All children are required to wear helmets in our Yama Riders/Ninja Kids programs.
For the safety of all children GoSnow is a nut free facility, please ensure you do not pack any snacks which contain nuts or traces thereof.
- Lift Tickets
Please arrive for your lessons with your lift tickets already purchased and ready to go.
First Timer to Novice levels will require a Grand Hirafu lift ticket only.
Intermediate to Advanced Levels will require a Niseko All Mountain lift ticket.
Children 6 and younger can receive a free lift ticket.
Lift tickets are required to use the Niseko United Resort. This includes all ski runs, lifts and magic carpets, regardless of whether you ticket is scanned/checked by a lift operator.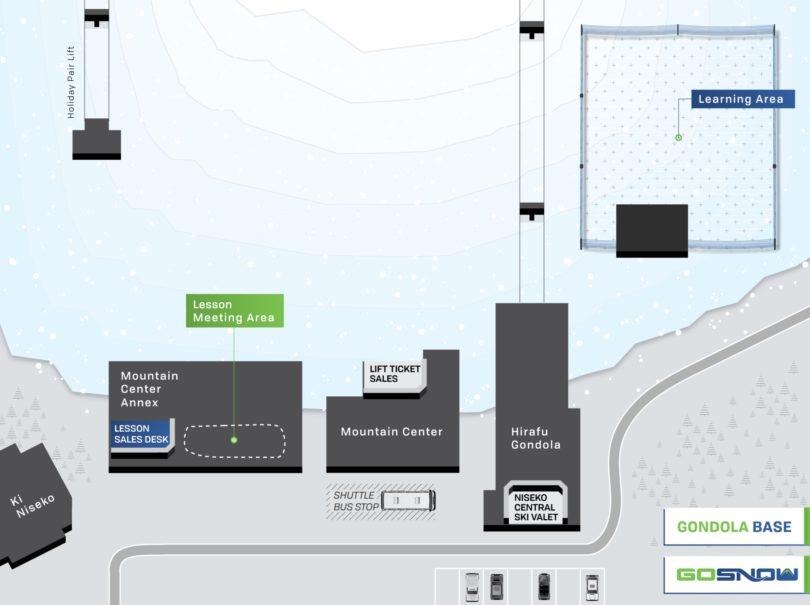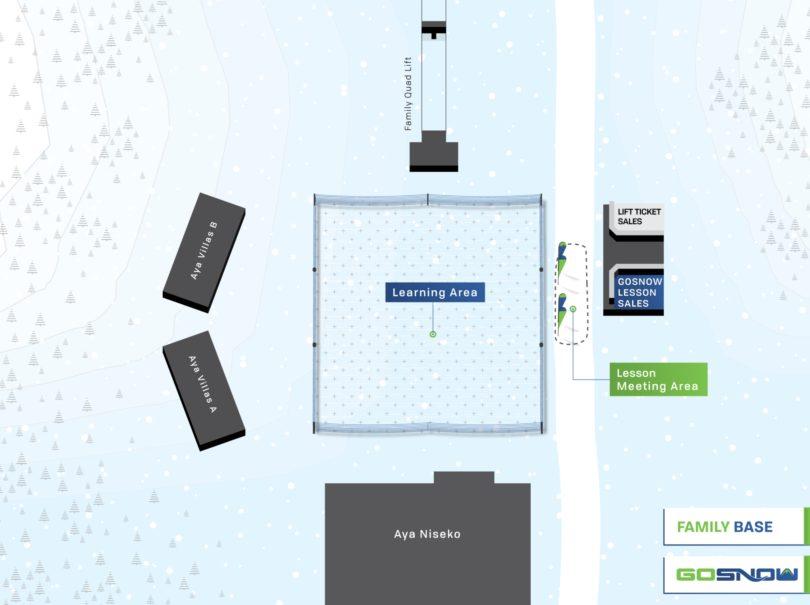 GoSnow's Family Base start point map