The Niseko United Ski Area
One pass
4 incredible resorts
Welcome To Niseko United 
The Niseko United resort area is built around excellent natural terrain and timeless beauty attracting snowboarders and skiers from all over the world every winter. Consistent icy winds from Siberia meet the moisture laden air above the sea of Japan coming together to deliver a massive 14m meters of annual snowfall to the Niseko area. Unique in its low altitude Niseko's powder skiing has to be seen to be believed with an average moisture contact of just 8% some of the best tree skiing anywhere in the world.
Niseko Grand Hirafu, Niseko Hanazono, Niseko Village (Higashiyama) and Niseko Annupuri form the Niseko United ski area. Ski and snowboard at any of the individual resorts or buy an all mountain pass to cruise the 2800 skiable acres between them all. With a free shuttle bus from each resort and a combined total of 29 lifts operating from late November to early May, Niseko's long season guarantees lots of time on the snow and plenty of terrain and aspects to choose from.
Niseko's vertical rise from its base of 240 meters to 1308 meters has terrain and groomed slopes for all abilities. The mountain's seemingly endless powder fields, tree runs,  back country gates and tours along with perfect groomed trails, epic night skiing and park riding are waiting for you. Frozen smiles will stay with you all day on our slopes and then happily warm back up in your comfortable accommodation with us at Holiday Niseko.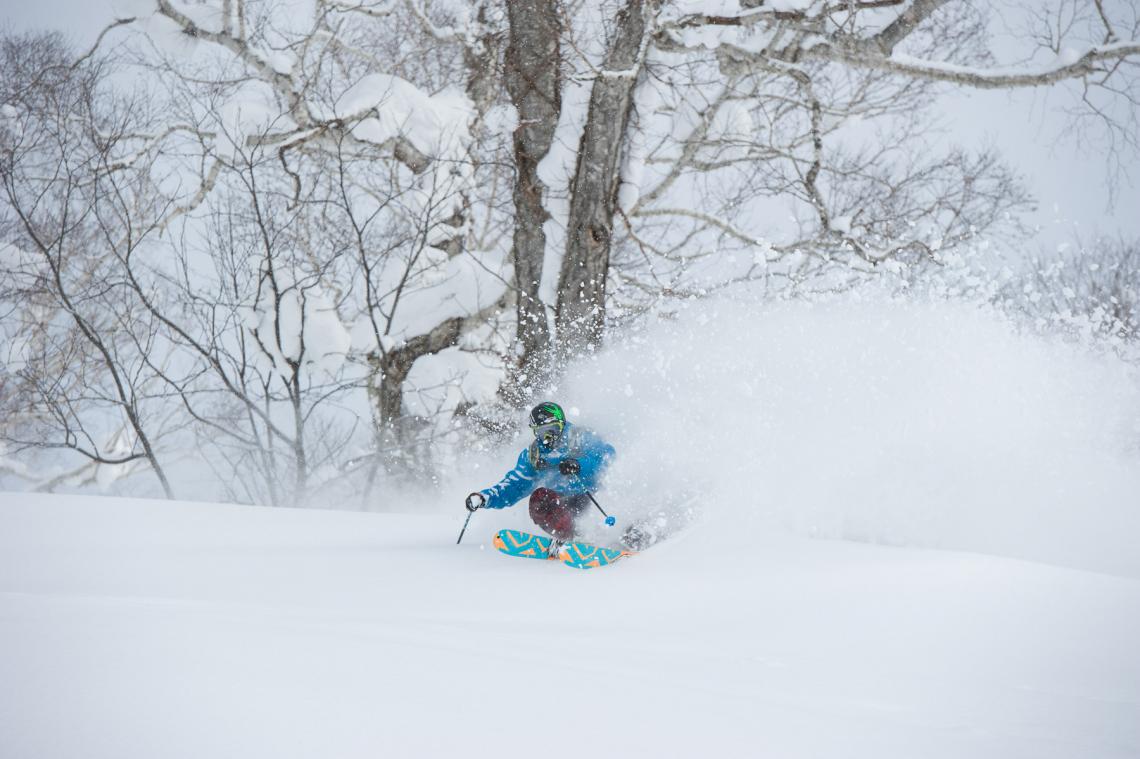 Incredible turns like this one will keep you coming back to Niseko season after season
Niseko Grand Hirafu
Grand Hirafu's gondola, twelve chair lift system and ski slopes are in short walking distance from most of our Niseko accommodation and will fulfil all your skiing and snowboard dreams. Advanced riders and skiers can cruise the open powder fields from the top lifts to get up to floaty powder speed quick. Get your backcountry gear and riding partners motivated to hike out of the top access gate to the peak and have your choice of riding Hanazono, Grand Hirafu, Niseko Village or Annupuri ski fields. Grand Hirafu's in-bounds groomed runs are lined with silver birch trees and powder stashes from top to bottom for everyone to enjoy.
The bottom of the mountain has beginner slopes that are perfect for learning or taking a lesson along with a terrain park to get your last hits before catching the lift back up. Niseko United has the nicest lift staff in the world and a free shuttle bus system to get you around the mountain and village comfortably. The Ace Hill mid-mountain chalet and all the restaurants around the base lifts give you many options for a lunch and a place to rest your legs. Complete with Mt. Yotei's perfect volcanic cone towering above the slopes, every run on the mountain is the right place to ski.
Grand Hirafu is a beautiful ski area during the day and just as amazing under the lights at night. Much of the area is bright with lights for world famous night skiing and snowboarding with up to six lifts operate until 21:00 every night depending on conditions. Grand Hirafu is a truly unique powder experience day or night and there are many long days and nights on our slopes waiting for you.
Niseko Hanazono ski area
Hanazono is next to Grand Hirafu and accesses amazing terrain, tree runs, groomers, awesome snow park with two high-speed chairlifts and one access lift. Facing north and east, the snow stays cold and there is potential for endless powder laps here. Hana's groomed runs are mellow and perfect for beginners or intermediate skiers and snowboarders to cruise. The lower area has a few flat zones mixed in with some steeps and is a place to learn to keep your speed. When the gates open up and access to the peak and gullies of Hanazono is allowed, it's going to be some of the best steep powder turns and drops of your life.
Great views of Kutchan and Mt. Yotei await you after the quick hike out of the upper gate to the peak. Backcountry gear, knowledge and a good riding partner is a good idea when venturing out on this open face. Keep your tip/tips up when skiing through the lower mountain access gate in the famous Strawberry field's steep pillows, drops and tree jibs. Take a break and relax and get lunch in the 308 restaurant before you do it all again. 
Hanazono is also home to the Stomping Ground Park that hosts an entire season of events. Complete with jib lines, intermediate and advanced jump lines, FIS certified competition halfpipe and a bag jump to try new tricks on, this park has it all. Enjoy this well kept park in between powder slashes, face shots and cruising the beautiful Hanazono area. All Niseko United ski resort areas are conveniently connected and skiable via the upper mountain lifts and free shuttle bus.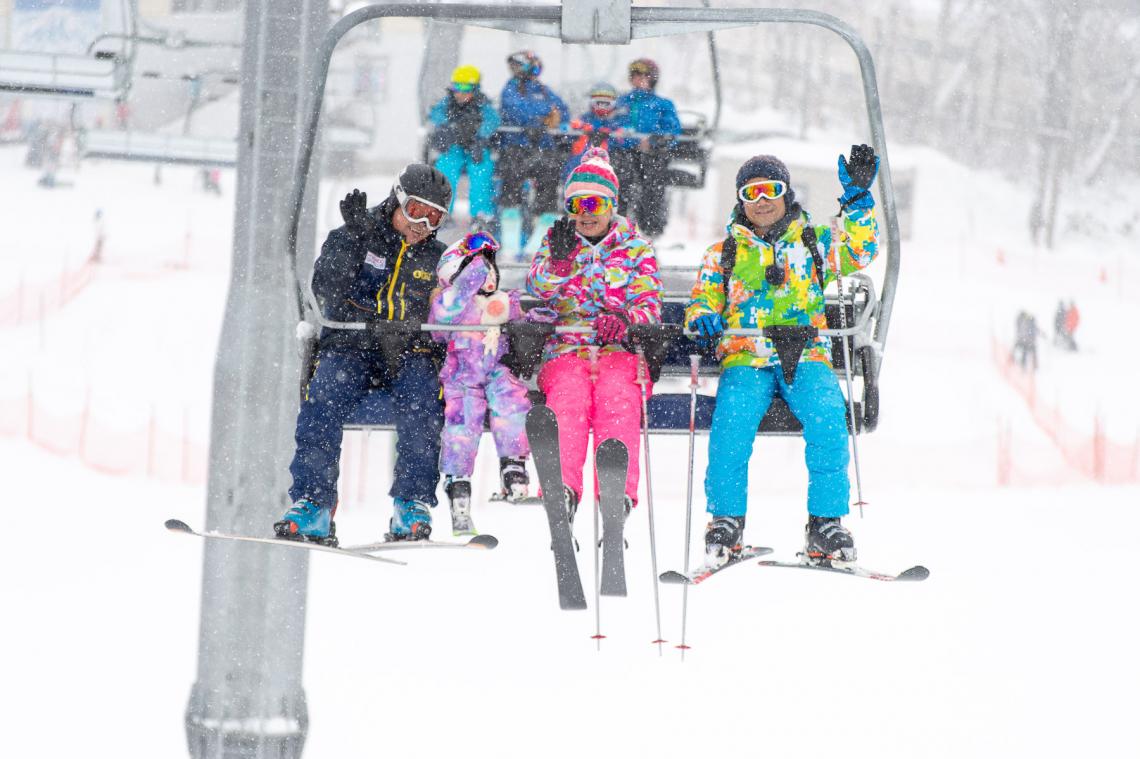 The Niseko United resort area has terrain for all ages and abilities
Niseko Village ski area (Higashiyama)
Niseko Village sits in between Grand Hirafu and Annupuri with the beautiful back-drop of Mt. Yotei to take in. Skiable from all the Niseko United resort areas and on the free shuttle bus line, there is no reason you shouldn't spend a day on the slopes of Niseko Village. Known to be the sunniest area on the mountain it's easy to find great skiing and snowboarding all day on the expert, intermediate and beginner slopes. Niseko Village gondola starts outside the impressive Hilton hotel and you will see amazing terrain from the bubble windows when riding up to the top.
Looking out at Mt. Yotei, Grand Hirafu village and the town of Niseko village, the time in the gondola usually goes by quickly. Along with the gondola there are four chair lifts that access everything you want from the base area to the top. Niseko Village has the only double black diamond slopes in the Niseko United ski area. Gate 11 is where the experts head on a deep day and is home to incredible tree skiing as well as steep open bowls.
Niseko Village has great night skiing until 21:00 every night and also puts together a range of jumps and rails for all levels at the Wonderland Terrain Park during the spring season. Pull your camera out and snap away! With Mt Yotei in your lense, Niseko Village is a photographer's snowy paradise!
Niseko Annupuri ski area
Niseko Annupuri's peak and ski slopes tower over Hokkaido's quasi-national park and is known for it's easy access powder and quiet slopes. Mellow tree runs, powder fields, inbound gullies, groomed runs, park jumps or night skiing and snowboarding, Anuupuri's got it all. One gondola and five chairlifts access amazing inbounds terrain and connect to all the Niseko United ski areas. Hiking out from the top gate will get you on top of some seriously steep open faces with beautiful views of the Panorama mountain line and sea of Japan to the west. Skiing out from Annupuri's backcountry gates will give you access to amazing ravines and gullies that funnel you back to the base area.
Going out of these gates is not for beginners and most of the area's serious avalanches happen out of bounds here. Backcountry gear, snowpack knowledge and a good riding partner is a good idea when venturing out into Annupuri's massive back bowls. The in-bounds slopes of Annupuri has terrain for all levels of skiing and snowboarding and the powder can keep you here all day. Relax and treat yourself to a mid-day lunch in one of many restaurants at the base before getting the comfortable gondola and lifts back to the top of Annupuri's snow. It's a gem!