About Us
Holiday Niseko was established in 2008 and is based in Niseko year round with a centrally located office in Hirafu.

We are a licensed Japanese travel agent, licensed Japanese real estate agent and  Minpaku licensed property manager.
 For the 2020 green season (May-Oct) Holiday Niseko booked and hosted 3,423 guests each staying an average of 2.4 nights.
 For the 2018/19 winter (Nov-Apr) Holiday Niseko booked and hosted 8,525 guests each staying an average of 6.1 nights.
 For the 2019/20 winter (Nov-Apr) Holiday Niseko booked 9,607 guests each staying an average of 6.8 nights. (2,703 guests were cancelled due to Covid-19)
Why Choose Us?

We deliver you consistent returns.
We have gained a reputation for providing our clients with consistently better returns than the village average. Our fees are competitive and we are quick to adapt to any changes in market conditions in an effort to maximise your returns.

Your Property is in safe hands.
We ensure your property is kept to a high standard of repair by our in-house property maintenance team.

You will be dealing with the same people that you can trust for the long term.
Our year round management team of Native English speaking and Japanese staff love the Niseko lifestyle and are passionate about their work. We are fully committed to living in Niseko for the long term and consistently strive to exceed our clients expectations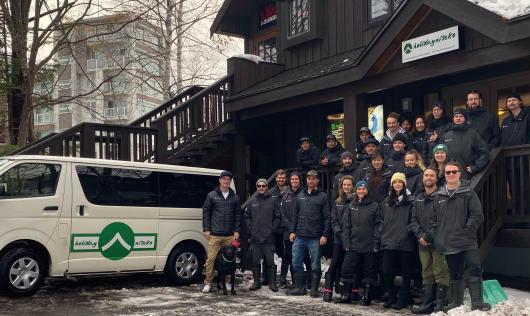 Holiday Niseko staff photo 2019
Property Management
Payment of all utility bills on owners behalf.
Arrangement of services such as snow clearing and internet connection.
Property maintenance and repairs. Annual maintenance reports and sourcing quotes from third parties as well as repairs by our in-house maintenance team.
Cleaning service. Trusted in-house cleaning team offering competitive rates and in depth knowledge of our owners properties.
Linen & towels supply sourced and arranged through a local company at reasonable rates.
Taxes and insurance
Tax proxy service ensuring your fixed asset and other tax payments are taken care of.
Facilitate your annual Japanese income tax return filing via an experienced, multilingual tax accountancy firm.
Arranging consumption tax refunds on the purchase of your property.
Insurance. We arrange house and contents, earthquake and public liability insurance options at competitive rates.
Licensing and new buildings
Hotel (Innkeeper) and Minpaku license expertise. We can assist in getting your property compliant to Japanese regulations.
Project consultancy. Helping to ensure your rental property achieves the highest yield possible.
Acquisition of household items. Assistance in purchasing furniture, appliances etc in Japan.
 
Owners
Online owner reporting that you can log into anytime and check your properties cash flow, your account balance as well as upcoming and past bookings. The online owner reporting function is linked directly into our back end management system providing true transparency.
Owner Liaison Have your queries answered and needs taken care of in a professional timely manner by your Owner Liaison.
Owner benefits. Take advantage of discounts on rental ski/board equipment, airport transfers, ski/board lessons, lift tickets and car rental. We arrange all these services and can be charged to your account with us.
Inbound tour operator and leading Niseko accommodation booking agent
In addition to offering property management services Holiday Niseko is a leading accommodation booking agent and inbound tour operator in Hirafu. We have a strong web presence and growing customer base generated from repeat business and referrals.  As your property manager our services as an inbound tour operator include:
Letting and rental promotion of your property via our highly ranked website and various online travel agencies such as Booking.com, Airbnb, Expedia and Rakuten travel. We consistently achieve high occupancy for all the properties we manage.
Centrally located Hirafu Village front desk service counter open 7 days a week over the winter months.
Arrangement of guest services such as airport transfers, car rental, lift passes, rental equipment, lessons and various activities in the village.
24 hour emergency helpline.
Assistance in case of illness or injury.
Meet the team