Food, glorious, convenient food
If you've been to Niseko before you've undoubtedly uncovered the delights of the conveneince stores. There are now 3 to choose from here in Hirafu, a 7/11 at the eatsern side opposite My Ecolodge and moving in from there Lawson begins it's reign with a new store freshly opened in the newly developed Mid Town. Now both these are a little out of the way unless you are either staying in Izumkyou, My Eco Lodge or Mid Town but moving further into the village the original Lawson we all love is still there and offers not only a host of extra convenient treats but also one of the greatest Yotei selfie spots in the village.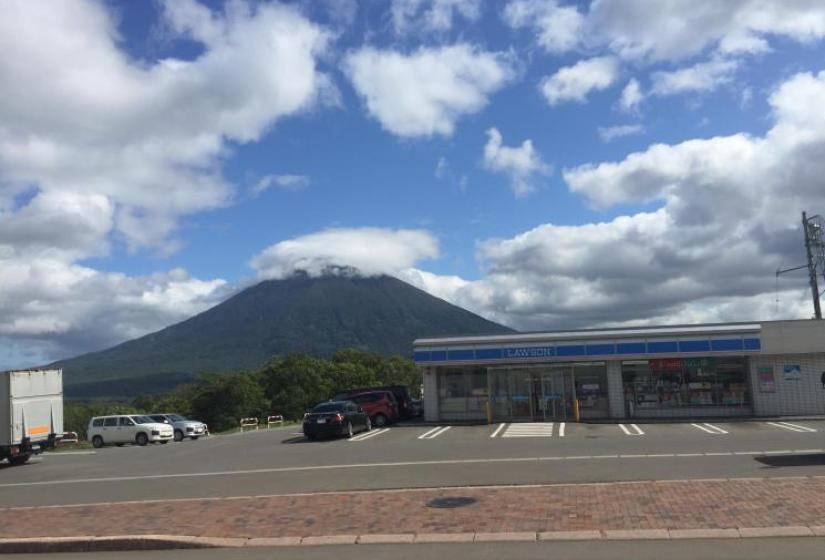 Couldn't ask for a better view
Back into the heart of Hirafu we find old faithful Seicomart. The orange and white beacon in the night serving the hungry masses their tuna onegirri's (riceballs), Asahi Super Dry and of course the ever popular katsu curry (pork cutlet curry).
So which convenience store to choose? By default most will choose Seicomart due to it's central location but if you are looking for a little more try Lawson just a couple of minutes down the road, less ques, a better selection and don't forget that selfie spot!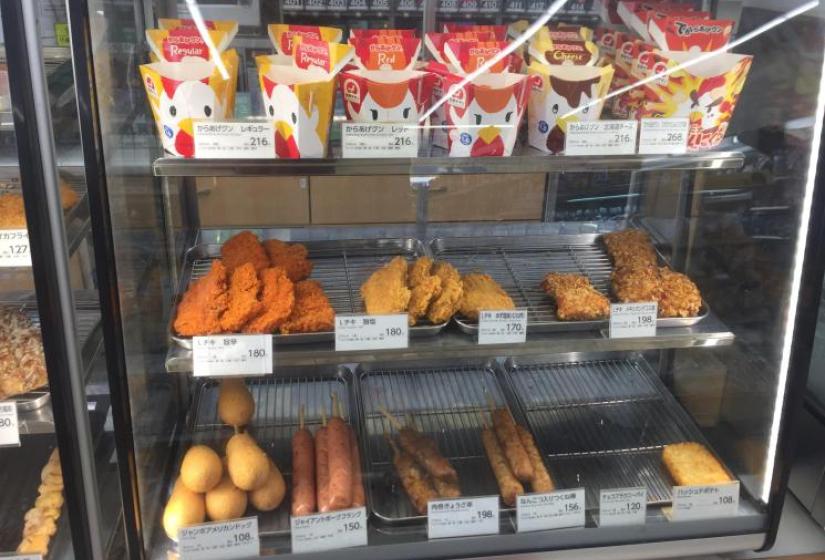 Fired chicken stand in convenience store
Lawson also just happens to serve ¥200 double espresso latte's that aren't quite Green Farm Cafe pedrigree but aren't bad for price!  Other notable products that you don't want to miss are of course the fried chicken, curry maans (steamed curry buns) and if you're feeling a little dusty after a night out try a bottle of Pocari Sweat, if you can get past the name, this refereshing beverage is about as close as you can get to a saline drip and will have back on track in no time. If you want a serious hangover cure go straight to the topshelf, a tall Lemon Strong will get you there even quicker (disclaimer, not recommended before hitting the slopes!).
Can I buy you a drink?
All of the convenience stores will aslo have your staples, milk, eggs, bread, noodles, beer, instant coffee, jam etc plus a host of surprisingly good  and healthy takeaway food options mixed in with a few surprises you may never be able to identify. If they haven't sold out Lawson also carry Iphone chords, international adapters, data cards and all of the convenience stores in the village have international ATM's that usually work with major credit cards and cards maked with Cirrus/ Maestro.
Excellent rice ball selection
Lawson is just a couple of minutes walk from some of Holiday Niseko's favourite properties La Plagne, Ezo Yuki and Ruby Chalet which are all fantastic options for your next trip to Niseko.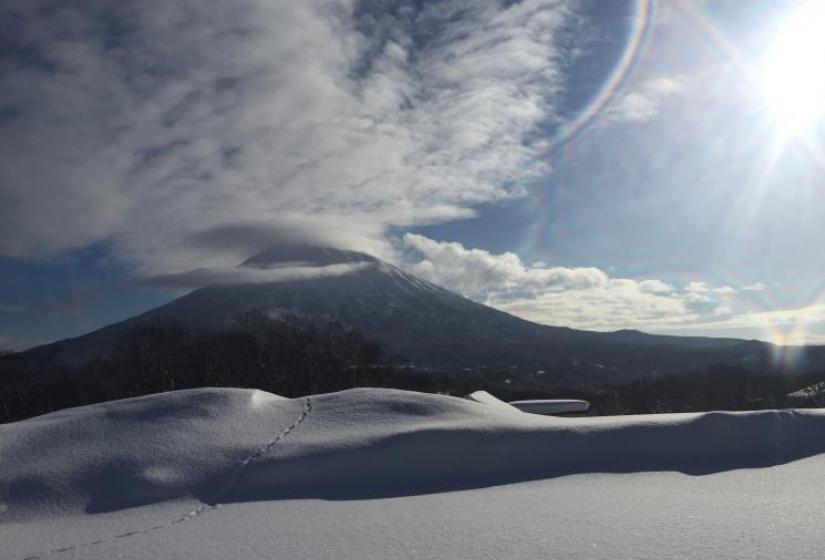 Mt Yotei