Noboribetsu hot springs Hokkaido
Noboribetsu is one of Hokkaido's most famous hot spring or onsen towns. It features spectacular volcanic scenery, bush clad hills and a huge array of hotels all with soothing onsens. Located just an hour and half drive from Hirafu Village, Noboribetsu is easily accessible and well worth the journey. If you have a taste for relaxation, adventure and a little luxury read on for more on what Noboribetsu has to offer.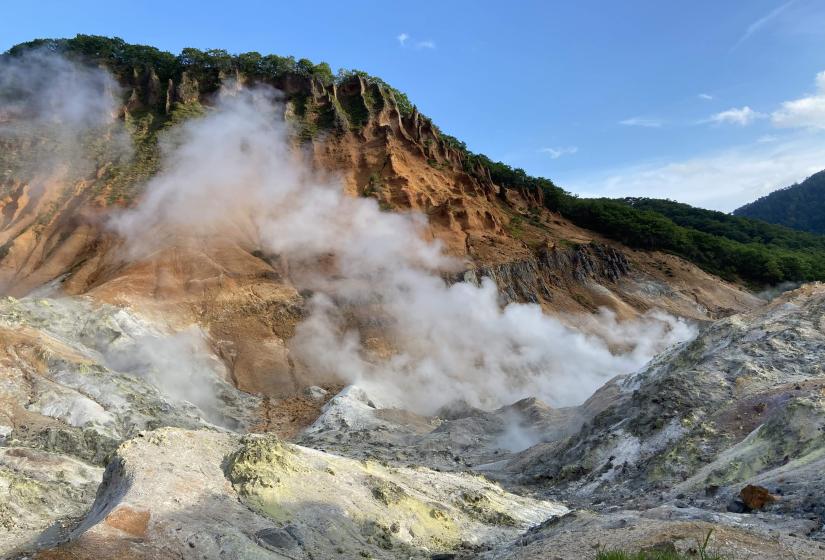 The scenery around Jigokudani or Hell Valley is spectacular with dramatic cliffs and steaming volcanic vents.
Toward the head of the Noboribestu Village lies Jigokudani or Hell Halley. An easily accessed adventure into what feels like a prehistoric world with volcanic steam vents, bubbling pools and brooks and spectacular cliffs rising up from the valley floor. A sturdy raised wooden walking path takes you into the heart of the beast and ends at a bubbling geothermal pool radiating heat toward those gazing into its waters. 
A sturdy walking trail lets you access the forbidding terrain with ease and safety.
All roads lead to Jigukudani in Noboribetsu and the family friendly walk way gives you many options to explore. For those feeling more adventurous there are also great walking trails in the area accessing different attractions. The most note worthy, Oyunuma a small but spectacular volcanic lake about an hour round trip from one of the many trail heads.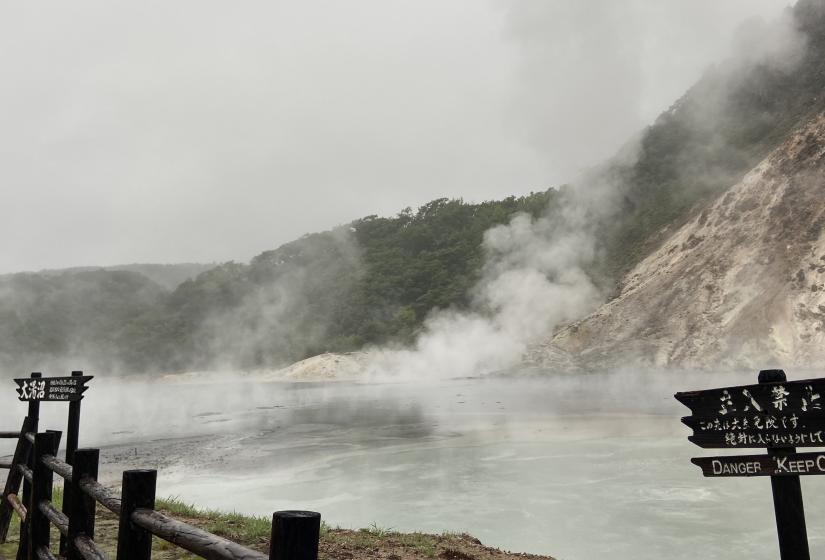 Lake Oyunuma can be accessed on foot or by car and is worth checking out if you are in the area.
Once you have spent some time exploring Noboribetsu's many attractions such as souvenir shopping and a bear park, it is time to relax. Noboribetsu can be easily explored in a day and is perfect for an overnight trip. There are many hotels to choose from, all with onsens and excellent buffet dinners and breakfasts. If you are looking to experience a little more of Japan than what Niseko provides Noboribetsu is a great opportunity to do so. Hotels in the area vary from recently built or refurbished luxury options to older traditional options that have not changed in many years.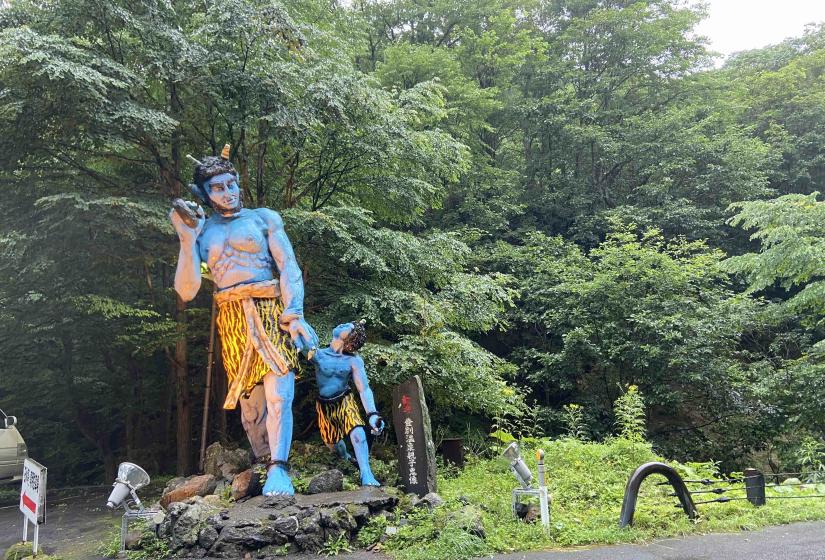 The father and son Oni or demons at the west entrance to Noboribetsu, these are two of the 11 demons you may meet in Noboribetsu.
If you are interested in how you might include a trip to Noboribetsu during your time visiting Niseko please feel free to get in touch with a Holiday Niseko agent today. Holiday Niseko can arrange transfers to and from the area which can be packaged with airport transfers on the way to or from Niseko. Contact ([email protected]) for more information.