Niseko - A winter adventure paradise
Are you looking to come to Niseko but not wanting to ski everyday or perhaps you're only here for just a couple of days and are looking to experience what else the area has to offer. Take a look at what we have below and this is just the beginning, Niseko is fast becoming the ultimate winter adventure destination!
Snowshoeing
If you aren't going to be skiing but would like a quintessential Niseko experience one fantastic activity to try is Snowshoeing. Snowshoeing gets you out in the beautiful serene surroundings that have made Niseko famous, is great exercise and can be enjoyed by the whole family. Imagine treking through your own private snow globe with exquisite views and a delightful silence that can only be experienced in such an environment. 
Snowbikes
Looking for something a little more high octane and adrenaline fuelled? If you can ride a dirt bike then this one is for you! Niseko Snowbike Adventures delivers a high speed, powder coated experience you will never forget. With access to 100km2 of rideable terrain Niseko Snowbikes will have you shaking in your boots. With their base in Kanbetsu just 15 minutes from Hirafu you wil be shredding the Yamanshi range with varied elevations of 500m - 1300m, fresh terrain guaranteed!
Are you ready for this?
NAC Adventure Park
If you are looking for something slightly slower paced but with a touch of excitement the NAC Adventure Park might be just what you are looking for. Experience tree top views and the expertly designed ropes course that will challenge your confidence and head for heights! The NAC Adventure Park is located right beside the Ace Family Chair so if you are staying in Hirafu it is right on your doorstep and the experience can be arranged on the day.
Snowtubing at Hanazono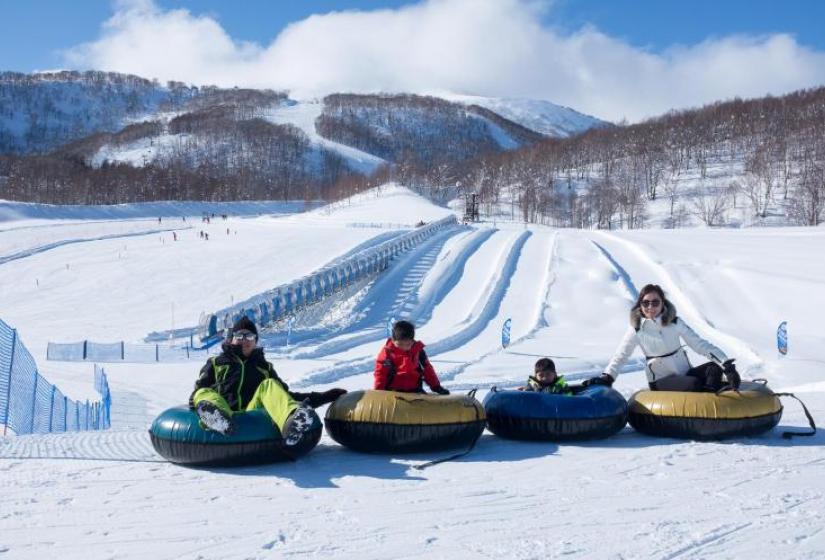 Great fun for the whole family
If you and the kids are taking a day off skiing and looking for something to do that is a little less challenging than one of the activities above why not try snowtubing at the Hanazono, no experience or special equipment required! Super fun for the kids and the adults too and you don't even need to walk to the starting point as the dedicated majic carpets will whisk you up to the top of the slope again and again, yeee haaa!
If you are interested in taking part in any of the activities above get in touch with Holiday Niseko today and we can help you arrange these activities and more. ([email protected])