Shimamaki Snowcat tours resumed operation this winter after a long couple of years wait. The mountains over this time of course changed no more than they have over the past few decades and returning to this very special mountain range in south west Hokkaido provided the same incredible sense of remoteness and solitude as the last visit there. A sense that refreshes, fulfills and exhilarates before you have even tightened your boots. 
Operated by Hokkaido Back Country Club Shimamaki Snowcats is a unique back country operation just a couple of hours drive from Niseko that promises incredible terrain, incredible snow and an experience you just can't wait to repeat.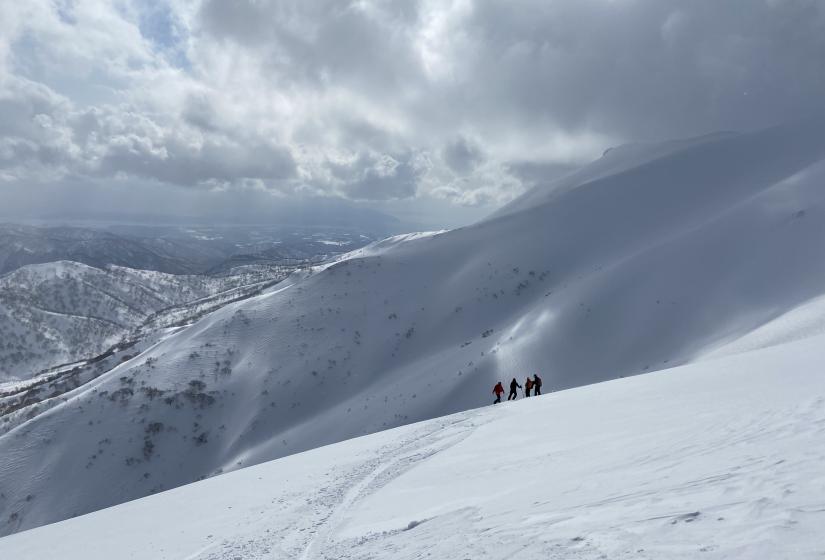 The remote location instills a sense of solitude and awe in the untouched beauty of the area.
Not only does a day (or two) with Shimamaki Snow Cats offer arguably the best cat accessed terrain in Japan, bundled with this is the opportunity to travel through the rolling hills and rugged coastlines not usually seen by Niseko's visitors. As far as the eye can see are fields of pristine untouched snow skirting mountainsides of Sliver Birch forest, all lit by the soft pink light of dawn (you'll be leaving Niseko about 05:00am).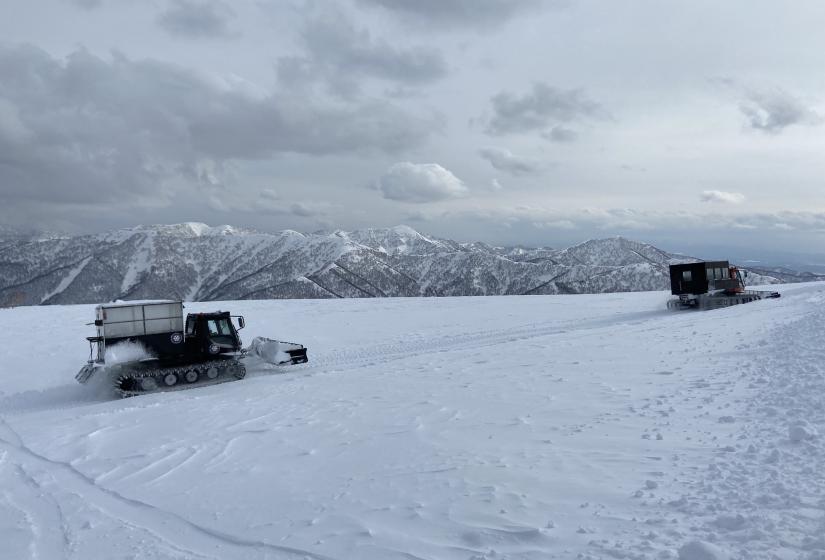 The journey is certainly half of the experience but the destination is something else again.
Traveling down toward the Sea of Japan along the banks of the Shiribetsu River you can't help but awed by Hokkaido's natural beauty. Driving on around the Sutsu and Shimamaki coast through hardy fishing villages you soon find yourself at the meeting point.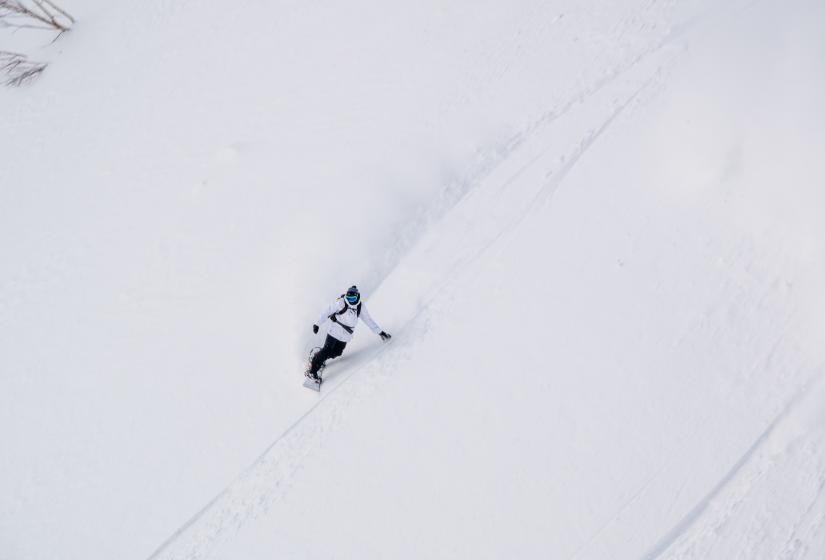 The wide open terrain on offer can make a nice change to more tree oriented riding we often associate with Niseko. Photo Glen Claydon
From here after a thorough safety briefing and beacon search exercise led by by our guide Pete it was into the cat for the first push up into mountains of Shimamaki and a sense of place quite unlike any other. This and some seriously kick ass skiing and boarding.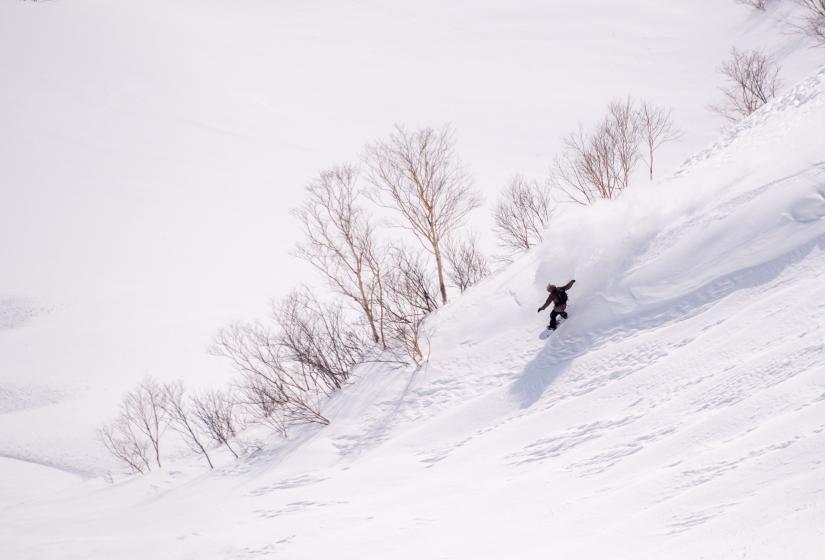 An incredible day of sunshine and slashes. Photo Glen Claydon
On this day we had a fantastic group of skiers and snowboarders, notably Terje Haakonsen and family and world renowned skier Eric Pollard (who was snowboarding on this day). It was certainly a rare pleasure to ride along such alpine royalty and added to an absolutely unforgettable experience. With a bit of coaxing from Hokkaido Back Country's owner operator Clayton Kernaghan, Terje even jumped over the cat for the crew, yeoooow!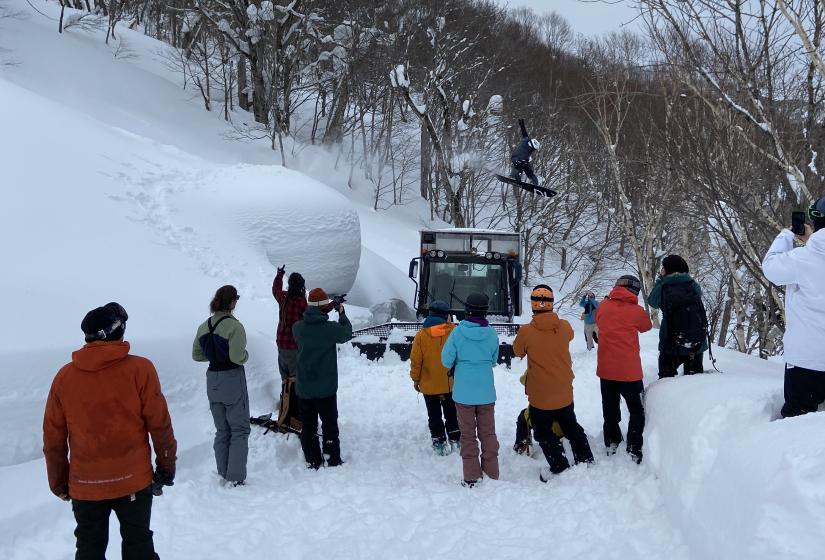 One of the greatest snowboarders of all time Terje Haakonsen still throwing down with timeless style
We were treated to 7 incredible runs and although the snow on this day (it was late in the season) wasn't quite what it had been the week before the incredible range of terrain more than made up for it with steep to moderately pitched wide open rolling bowls mixed with some beautiful gladed tree runs that still had some exceptional snow. 
The Shimamaki Snowcats experience was once again one for the books and one that every powder hound needs to have on their list especially if you have a trip to Niseko planned. If you have any questions on this and how it can be arranged with with your Niseko stay please feel free to get in touch anytime ([email protected]).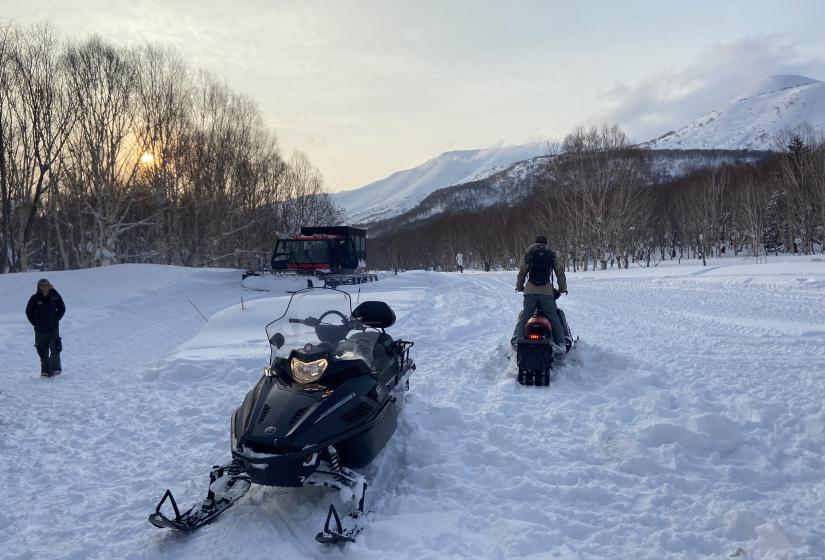 From sunrise to sunset the Shimamaki Snow Cats experience was an incredible one.