Camping opportunities in Hokkaido abound with fantastic campsites within an easy drive from Niseko. Just an hour from Hirafu is lake Shikotsuko which has a number of camping spots, one of the most popular being Morappu Camping Site. Many visitors to Niseko will be familiar with the beautiful Lake Shikotsuko as it is on the route from the Chitose Airport to Niseko. The lake is stunning in winter or summer and in summer the area comes alive with people flocking to the area to enjoy the many outdoor pursuits on offer.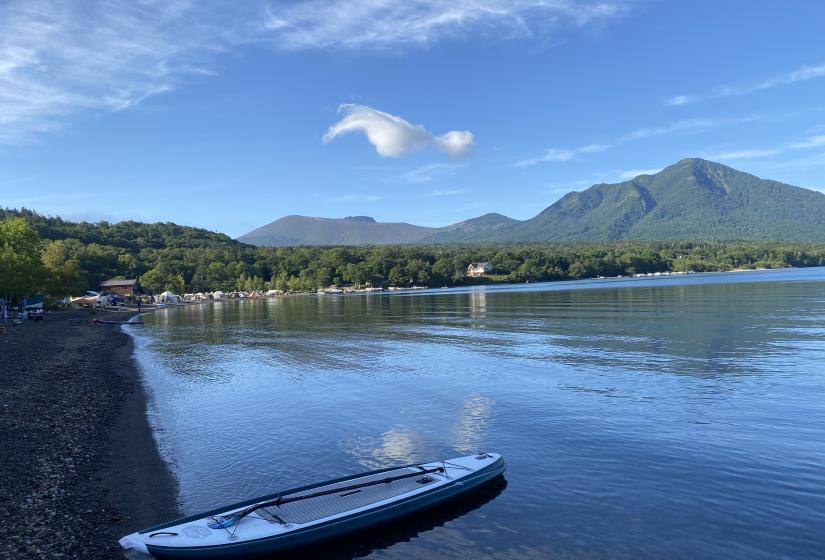 Lake Shikotsuko
The camping ground at Morappu has good facilities with toilets and communal sinks for washing up. There is parking for about 150 cars and in mid summer you can expect these to be pretty well occupied. There is also a small store and reception desk where you will pay for your campsite when you enter or if reception is closed when you arrive the next day. You can rent barbeque equipment and buy charcoal here too. All other food and equipment must be bought in and you'll need to take your rubbish out.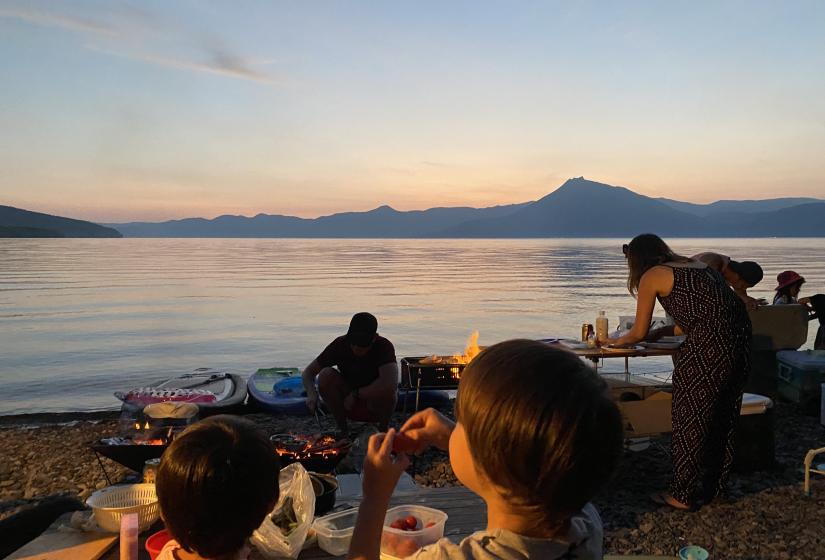 Shikotsuko camping
Tents are pitched along the shore of the lake which is for the most part pebbles so you need some decent bedding if you want a good night's sleep. The beauty of this is that you have the lake quite literally on your doorstep and the sound of the waves lapping the shore will send you to a peaceful sleep. Sunsets are stunning and you will often be greeted by a little morning mist draped like cotton wool over the lush green hills.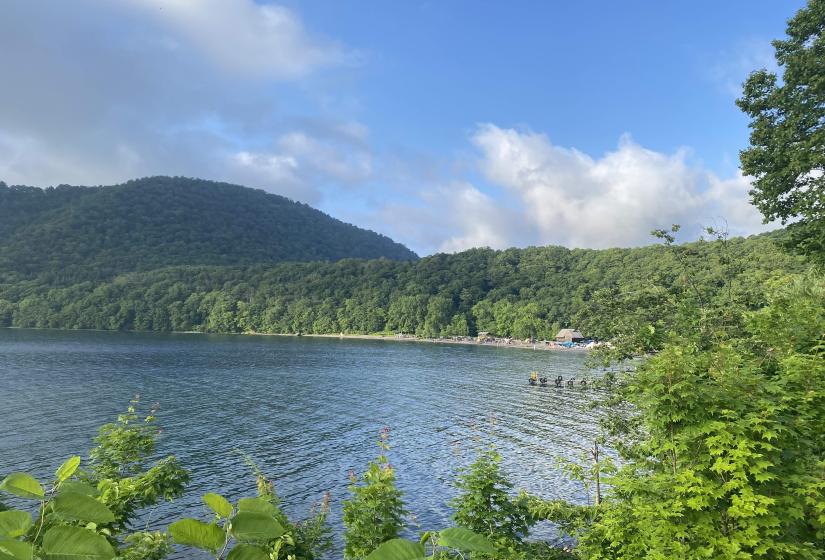 Lake Shikotsuko camping
There are many great hiking trails to explore in the area including Mount Tarumae (visible in the top photo) and an excellent hike up the active volcano. If you prefer more aquatic pursuits, standup paddle boards or kayaks are the weapon of choice and a great way to take in the surrounds. If you don't have your own vessel small boats and swan boats are available to rent for reasonable prices. Lake Shikotsuko is one of the deepest caldera lakes in Hokkaido and her crystal clear waters remain cool and refreshing through out the summer. The lake is home to many species of Japanese trout including ame masu, sakura masu, hime masu, niji masu (rainbow trout) and brown trout.
Lake Shikotsuko
Although the campgrounds are busy during the peak month of August they are for the most part quiet and peaceful despite the number of campers. Camping in Japan is taken seriously and camping setups range from large scale family glamping homes to purposefully curated set ups for one where even the scent of the firewood is chosen with care. If you have the opportunity to experience camping at Lake Shikotsuko don't miss it. It is a stunning area and an easy extension to your itinerary if you are staying or passing through Niseko.