Hakodate is located at the southern tip of Hokkaido and is the only stop for the Shinkansen on the island. This makes the city a viable and attractive stop off on the way to or from Niseko and is a fantastic city to spend a couple of days with plenty to see, explore and taste any time of the year. Take a look below at Hakodate's views, historical attractions and and dining opportunities.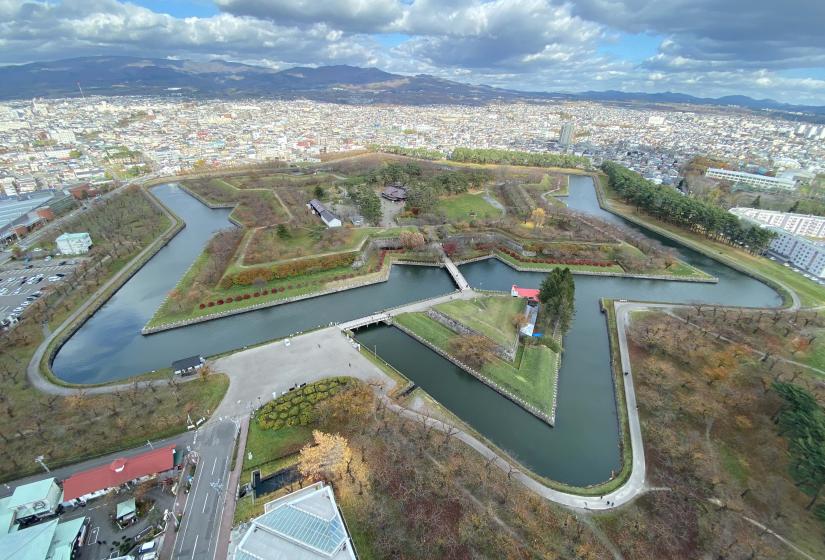 Goryokaku castle from the Goryokaku Tower
Hakodate has a surprising array of attractions and large number of historic sites, one of these is Goryokaku Castle. An impressive star shaped castle fortification that is impressive at any time of the year but particularly so in the spring when its 1600 blossom trees bring subtle hues and delicate beauty to the fortress walls. Likewise the fall brings autumnal colours and the summer lush greens. More than likely if you are on your way to or from Niseko, winter time too is impressive with stunning illuminations and a blanket of snow covering the area. Another great feature of Goryokaku is its observation platform which towers 107 meters above the fortress and affords amazing views of the city and surrounds all year round.             
The Hakodate night view is impressive at anytime of the year and is not to be missed of you are visiting Hakodate.
Another attraction that can't be missed is the night view from the top of Mount Hakodate. This can be accessed either on foot or via the more popular cable car option which departs every 10 minutes or so and whisks you up to the observation area in a jiffy. Here you will find an outdoor deck, restaurants and souvenir shops. If you don't manage to make it up at night the day time views are also spectacular and well worth the visit. If you are feeling energetic it is a nice walk up to observation deck through the trees and remnants of past fortifications.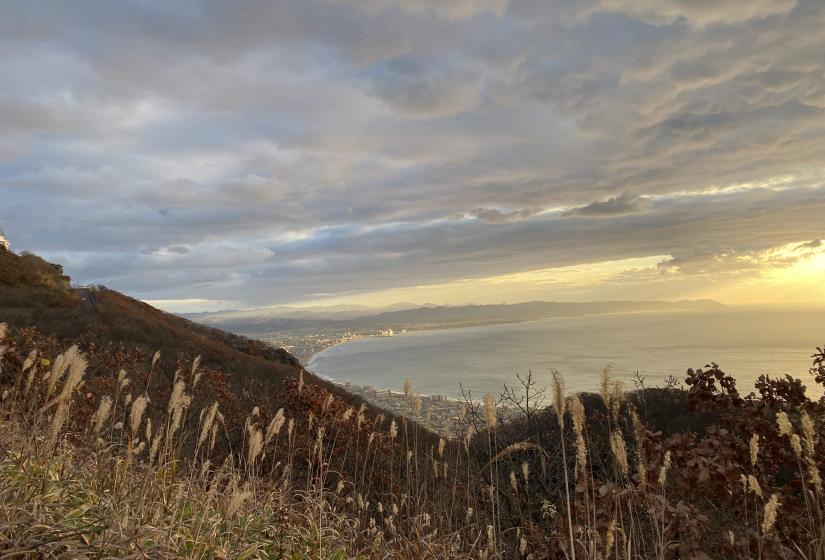 The sun rises on the Hakodate coastline, viewed from the remnants of past fortifications near the Mount Hakodate observation deck.
With the two main attractions above ticked off the list one of the areas next most popular draw cards is an abundance of seafood. This can be enjoyed at one of the many restaurants in the area or fresh from the morning fish markets. A key ingredient is fresh squid which is harvested straight from the waters surrounding the city, the Tsugaru Strait (津軽海峡 orTsugaru Kaikyō).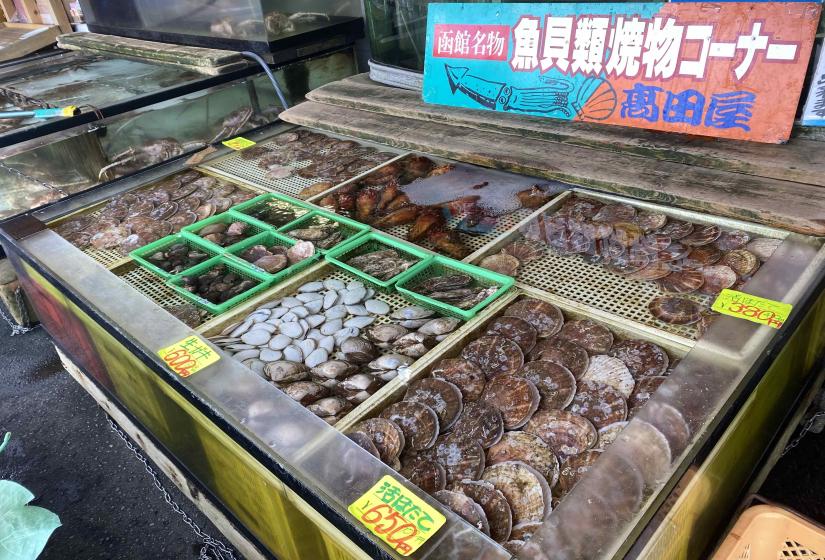 Shelves of shellfish as fresh as can be.
The strait separates the Hokkaido from Japan's main island of Honshu and provides an incredible array of delicious delights including squid, bluefin tuna, mackerel and a plethora of shellfish from its coasts, delicacies such as uni or sea urchin, scallops and many more. Be warned though the squid will often be served so fresh it will quite literally try to walk off the plate.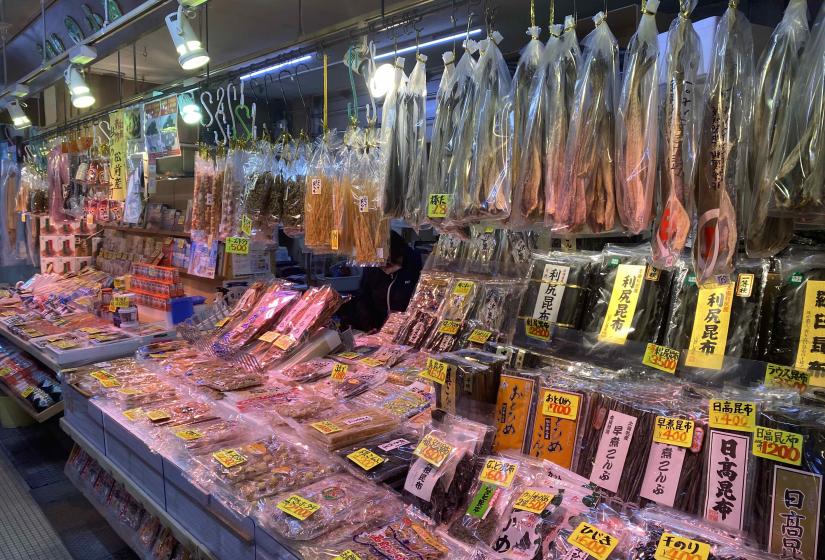 If you are looking for souvenirs to take home the seafood markets have every imaginable fish product, dried, preserved, wrapped or unwrapped.
As one of Hokkaido's major ports Hakodate has a distinctively maritime feel with a large area of the historical port side of the town restored to it's former glory. Hakodate has a long history of foreign influence from as early as 1854 when it was designated as a treaty port and opened to foreign traders. Because of this the city features a fascinating blend of east meets west architecture particularly around the foot of Mount Hakodate where you can find late 19th century churches and other sites of interest.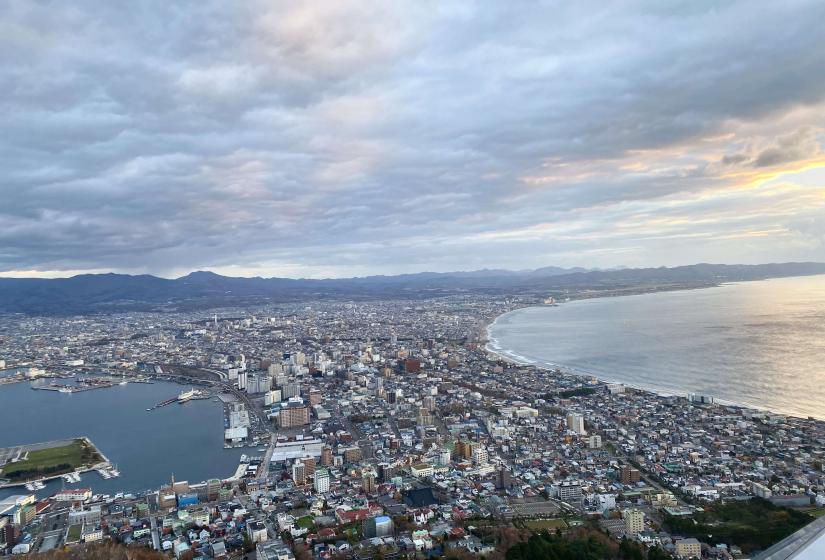 There are many interesting historical sites within this modern city Japanese city.
Similar to Niseko and many other parts of Japan Hakodate is also famous for it's onsens, with many of the cities hotels offering fantastic hot springs often with sea views. Picture yourself lying back in a soothing mineral rich spa and gazing out over the Tsugaru Strait as the lights of the squid boats light up the horizon.
If you'd like to experience Hakodate for your self you can leave from Tokyo and travel the 683km by Shinkansen in a blistering 4 hours and 34 minutes. If you plan to go on to your Niseko accommodation it takes another 4 hours to train to Kutchan station on a regular express train. 
Hakodate is well worth the trip winter or summer and during the warmer months the drive from Niseko is surprisingly easy especially if you take the express way. If you'd like to know more about planning a trip to Hakodate alongside a dream ski vacation to Niseko or you have any other Niseko accommodation related queries please don't hesitate to contact us anytime ([email protected]).